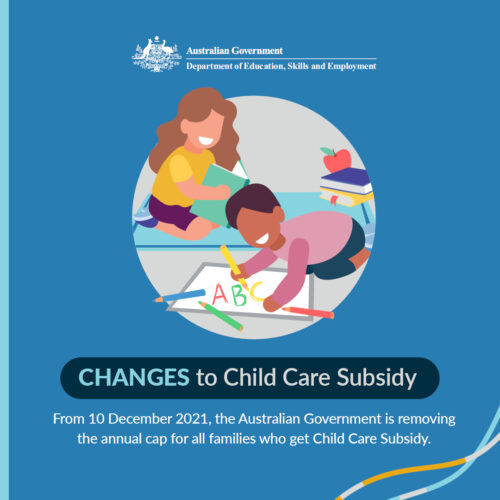 Recent changes have been made to the Child Care Subsidy that will be affecting families attending our Active Kids Group day care centres in Sydney. Services Australia will pay a higher subsidy to families with more than one child in care and remove the annual cap for all families who get CCS.
ANNUAL CAP:
Families earning more than $190,015 have an annual subsidy cap of $10,655 per child each financial year.
From 10 December 2021 the annual cap will be removed for all families who get CCS. This means families will continue to receive the subsidy for the whole financial year and it will not run out as previously some families may have experienced.
FAMILIES WITH MORE THAN ONE CHILD IN CARE:
Under the new changes, families with two or more children in an early learning centre in Sydney under five years old may be able to receive an additional 30 per cent, up to a maximum of 95 per cent on top of the current Child Care Subsidy for their second child and younger children.
The increased subsidy comes into effect on March 7, 2022, four months earlier than originally planned. From this date, around 250,000 Australian families will receive the increase to the Child Care Subsidy.
To be eligible, families need two or more children aged five years and under in a day care in Sydney, at the same time, and need to have a household income of less than $354,305 a year.
For families with two or more children in care, the extra Child Care Subsidy will stop as soon as the eldest child hits primary school.
A family earning $110,000 a year with two kids in an early education centre in Sydney, four days a week, will be better off by around $100 each week.
Families already getting CCS do not need to do anything to receive the higher subsidy. Services Australia will automatically increase the CCS for eligible second and younger children. Families should contact Services Australia if their circumstances change.
To learn more about the childcare subsidy at Active Kids Group, get in contact with us today.