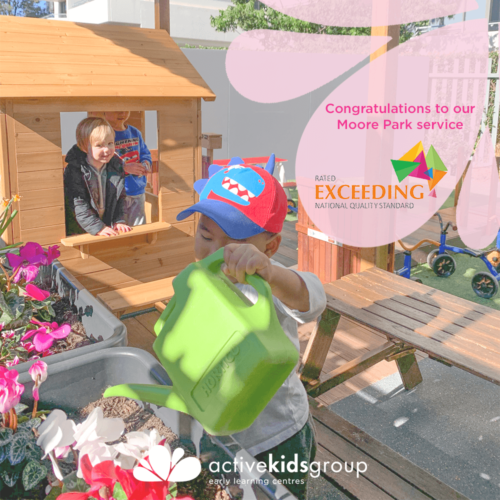 On Wednesday 29th June our Moore Park childcare service had its assessment and ratings visit from the Department of Education.
We have received our results and are excited to share that our Moore Park childcare centre has been rated as EXCEEDING National Quality Standards under the National Quality Framework.
The National Quality Standard (NQS) sets a national benchmark for the quality of children's education and daycare services across Australia.
Congratulations to our service coordinator Suzie and her amazing team! We are so proud of this result as an overall rating of Exceeding NQS is given to services that go above and beyond the requirements of the NQS.
The department commended us on our achievement in Exceeding the National Quality Standard. The assessment officer noted "your childcare service is commended on its achievements in particular, careful planning, reflective practice and willingness to collaborate with families and other community organisations to enhance children's learning and well-being demonstrate the commitment to quality by educators at your service. Management and educators demonstrate a willingness to consistently reflect of service processes to ensure the best possible outcomes for children and families. Practices within service delivery are fostered around meaningful engagement with families and the wider community."
Our childcare service coordinator Suzie commented "As the coordinator of this service, I feel so proud of our Wonderful team! This is such great recognition for their commitment and passion each day; in providing a quality childcare environment for each and every child. We love what we do! We would like to thank our families and children for their feedback and reflections on our practices and procedures, and for their consistent participation in the program… each person has had a part to play and we are so grateful'.
Well done Active Kids Moore Park! Please leave a comment to congratulate our Moore Park centre by clicking here.
Come and have a look at our Moore Park child care centre by booking a tour online now.