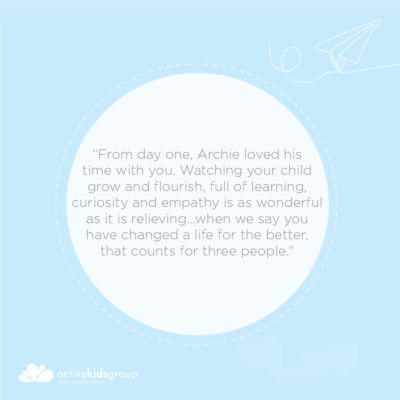 Thumbelina is a child care centre in Edgecliff that has been educating children under Active Kids Group since 2010. Parents can expect to find only the highest quality equipment and facilities awaiting their children. Nestled in a quiet leafy neighbourhood in Edgecliff, our child care centre is located a short walking distance away from Edgecliff station and 5 ways in Paddington.
Parents love being a part of our centre and regularly express their gratitude through thoughtful letters. Take a long at a lovely letter we received recently from one our departing students:
"From day one Archie loved his time with your child care centres in Sydney. Watching your child grow and flourish, full or learning, curiosity and empathy is as wonderful as it is relieving… when we say you have changed a life for the better, that counts for three people.
As Covid started, Thumbelina day care remained resolute and steadfast. Always well planned, always calm, always with a laser focus on providing an environment for the kids, that made whatever was going on in the community almost melt away.
Thank you to Miss Rashi and Miss Nicole. It is the curse of what you do, that the little ones may never truly know the debt of gratitude they owe you. An oversight purely because they are so young, but the seeds you have planted at child care, will without a doubt, grow into wonderful specimens in the years to come.
Thank you all – for letting them grow, be curious, be cocky, be wrong, be upset, be frustrated and be confident at their child care centre. Thank you for the endless day care activities – always stretching their minds and challenging their comfort zones. Thank you for starting to show them the wonder of their world out there beyond their homes."
You can check out all that is going on at our Thumbelina Childcare Centre by visiting our Instagram page.
To join our Active Kids Group family book a tour now at our Edgecliff daycare centre or contact us today!