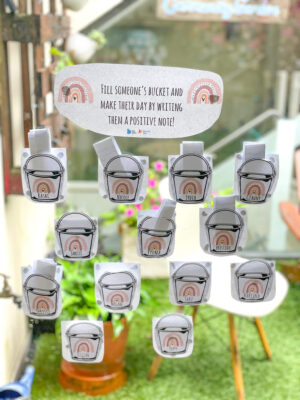 At our Thumbelina Edgecliff childcare centre we have introduced an Educators' Wellness Program, where educators set up some activities that support the wellbeing of our educators. Once a month, each day care room team take turns setting up a self-care activity for the rest of the educators, expressing their gratitude towards their team. We have decided to focus on a wellness program and ensure it is an integral part of our child care educators' career at Thumbelina, as in our everyday lives, we are faced with innumerable challenges. Self-care assists educators in preventing burnout, the ability to interact more effectively with children, and creates an environment more conducive to learning at our Active Kids Group child care centre.
This month, the nursery team prepared a little teacher's survival kit for the rest of the team. It contains hand cream to help those working hands, lozenges to support immune system, fight off those germs and help with those sore throats. Hot chocolate to make these rainy days better and chocolate because chocolate makes everything better.
Additionally, a part of Educator's Wellness Program we also implement Be You in our service.
Be You is the national mental health in education initiative delivered by Beyond Blue, in collaboration with Early Childhood Australia and Headspace. Be You supports educators from early learning services to develop a positive, inclusive, and resilient learning community where every child, young person, educator, and family can achieve their best possible mental health. Miss Lydia who is our Be you Action team leader thought of adding a sweet gesture in our office where all the educators can add a special note to each other's bucket to make them feel heard and appreciated. She also set up a beautiful morning tea for our lovely educators.